The Five Best Books Ever Written
First, the name of this post is not a drill. These are not my favorite books, they're the best ones ever written in the English language. Probably all the other ones, too. Except Italian, because everything you say in Italian sounds post-orgasmic.
1. The Sky is Everywhere by Jandy Nelson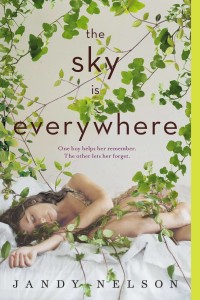 This book wraps you in another kind of air, like music, like dance, like the first touch from a boy you've had a crush on forever.
I have no idea why Nelson isn't 50 Shades of Grey famous. She should be signing books and tossing them down from her private plane, while getting footrubs from men with beautiful abdominal muscles and even more beautiful Ph.D's. This is a debut novel from a seasoned literary agent, and I can only assume she's been saving up all of her talent to spend on this one, perfect book. It's worth it, Jandy. Thanks for waiting.
This story is about a teen girl who is falling in love for the first time while coming apart at the seams about the death of her sister. The marks of her grief smudge her entire world: in the poems she leaves on garbage, in the (nearly unforgivable) self-destructive things she does to forget, in the leaves of her plant doppelganger nurtured by her hilarious Uncle Big and her bizarre Gran, and in the kisses she shares with Joe, the owner of the most beautiful eyelashes in the lower 48. I don't imagine there are many people who could pull off this premise, much less make it excruciating: in its joy, in its pain, in both at once. This book is everything salvageable about the human race.
Best for: people who want to feel, or who like the kind of weird that is also funny. Bonus points for music lovers.
Why it's weird that I like it: I hate books with sad stuff, and I really hate poetry. The poetry in this book works, though, because the main character has no idea the impact she's having on the world around her. She just flings her influence about the way she flings her poetry, and in the end, you see all the pieces of her that were gathered up—and cherished—by others when she at first thought they were worthless.
You can see more about it HERE.
You can see my original review HERE.
2. The Sea of Tranquility by Katja Millay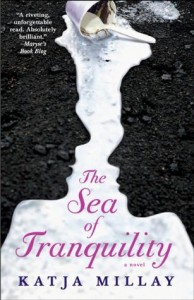 Like #1 on the list, this is a crazy outlier by a debut author. It's a love story about two teens with Real Shitty Lives. To be honest, I didn't love the voice of the protagonist for the first few chapters. She sounded like a sarcastic, semi-entitled teenager and I wasn't interested. I might have even put it down if the author wouldn't have impressed me with a little bait and switch (small spoiler!) when she notes that the character doesn't talk. What? I didn't notice for like three chapters that the MC doesn't TALK? *cue furious page-flipping and my grudging grunt of acknowledgment*
What really sold me on this book was Josh. He barely talks, everyone in school is afraid of him, and he's the King of Shop Class. I admit, I swoon for a guy in work boots. Josh spends most of his time quietly making furniture in his garage and I could LIVE in the golden glow of that place. When Nastya, the bitter but mute MC, shows up, you would expect that he heals her with his gentleness, and he's the only one that understands her, right? WRONG. They're mean as shit to each other, but she's as addicted to his garage as I am and after a while, they forge an alliance of misfits. She doesn't talk and he doesn't want to answer any question because he's got a past that's a notch past dramatic and into cringe-worthy territory. It seems that Nastya has the same, but that trope finds new life and tension in this narrative until it's as impossible to ignore as a car wreck. Almost against my will, I was drawn into caring what happened to her, and I couldn't look away, even when it became clear that it was impossible for her to heal. Even when she walked away from Josh and broke my heart. And no, I'm not going to spoiler the end for you. It's brave. It's honest. Read it.
Best for: Angst lovers.
Why it's weird that I like it: It's totally not. I'm a sucker for quiet carpenter guys and haunted characters, though I normally avoid things that are this sooty level of dark.
You can see more about it HERE

You can read my original review HERE
3. The Fault In Our Stars by John Green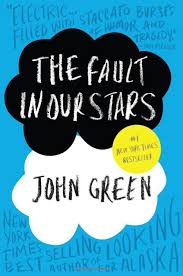 I'm pained that this one is on here, because it's so trendy, and because it's about two cancer kids falling in love in a support group. I didn't want to like it! I just couldn't help myself.
Green suckered me in with the laugh-out-loud Night of Broken Trophies and The Literal Heart of Jesus (because really, support groups are for terribly earnest people, aren't they?). He hooked me with the plot twist (WHAT? THAT WAS NOT SUPPOSED TO HAPPEN, JOHN. WHAT IS YOUR EXPLANATION FOR THIS?). He beguiled me with his sidewalk-gritty metaphors about life and death and meaning, and then he LAID ME OUT with the ending. I sobbed like a child, nearly as often as I marveled at the conclusions he came to.
Green used to be a pastor in a children's hospital, and he writes more insightfully on the experience of death and fate and meaningful randomness than the rest of us will ever do. Take advantage of all his smartness. Read this book. It's not a dang cancer book. It's not a cheap tearjerker (I'm looking at you Lurlene McDaniel). It's one of the best books you'll ever read in your life.
Best for: Those interested in the meaning of life and that old favorite, Why Bad Things Happen To Good People.
Why it's weird that I like it: Cancer books. I don't read 'em. I lost my dad to cancer, and seriously, why would I relive that in my leisure time?
You can see more about it HERE

You can see my original review HERE
You can read my comparison between the book and the movie HERE
4. The Night of Cake and Puppets by Laini Taylor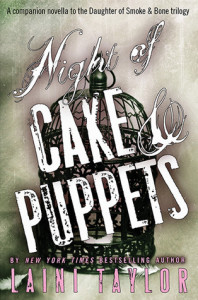 What the hell, you're probably saying at this point. What's with all these tissue-mopping books, Michelle? I thought you liked fun. I thought you liked pranks and witty banter and kissing. I mean, didn't you actually write a book called Happily Ever After?
So here you go, patient readers, here is the ROFLMAO gemstone that makes up for all those soul-wreckers I just recommended. I laughed out loud three times on the first page, and highlighted so many great phrases that most of the book is grayed out now. I laughed so obnoxiously loudly that my husband started reading over my shoulder, and he's more interested in toenail clippings than romance novels.
This story is cute, quirkily romantic, and makes your heart swell like the brass section in the soundtrack of an American movie. It is about a diminutive puppet-builder in Prague who is trying to win the love of her life, who happens to be a violinist. That's right, SHE is trying to win HIS heart. Don't be so sexist, people. Also, she does this with a scavenger hunt. Great strategy.
This book increases the overall amount of happiness in the universe. You should read it because doing so will make your life better. The end.
Best for: Everyone. If you don't like this book, you are probably not a person. You're probably a golem created from powdered cubicle walls, wheat germ, and puppies' tears.
Why I like it: I admit to a soft spot for this one because the main character might as well be me. She's tiny, fierce, and just as likely to kill a rapist with an axe as she is to swoon helplessly over the romance of a perfectly presented snowball.
You can see more about it HERE
You can see my original review HERE

5. The Name of the Wind by Patrick Rothfuss
Remember when you were a kid and you'd get swept up in a story? You'd be half-daydreaming, wriggling your bare toes in the grass as you pictured the action while the hero fought his way through adventure after adventure… That's the Name of the Wind. But instead of the shiny legend of the hero, this book is the true story behind the rumor, with all the gritty details and mistakes; the funny moments where the hero screwed up and then pretended like he totally meant to do that. It's a little Harry Potter, but more down to earth. A little Lord of the Rings, but with better pacing. It's a heck of a tale, all suspense and romance and heroism all wrapped up in stunningly clean, beautiful language.
I've said for years that this book had the best first page I've ever read, and once when hiking in the desert, I ran into two other people who agreed with me. The three of us ended up reciting the entire prologue from memory in turns: me, a Swedish rabbit researcher, and an Alaskan fisherman. When you can write a page so good that three people can all recall it nearly word for word, years later? Well, now that's a page.
Best for: Anyone who likes a good story, or good writing.
Why it's weird that I like it: I don't care for fantasy. I just couldn't resist the writing in this one, and then the story sucked me in.
You can see more about it HERE

You can see my original review HERE
And in a happy little postscript, as just recently ALL of these books have been optioned for movies or TV (congrats Jandy Nelson!) or have already been made into movies (see my earlier post on The Fault In Our Stars movie). *happy sigh* I'm so happy with Hollywood right now.
So there you have it, the five best books of all time. If you think we might have similar taste, come find me HERE on Goodreads! I'd love to have more people's reviews to follow on that site.
Runner Up List: Anything by Maggie Stiefvater. Because she writes about man-eating horses and faerie assassins and is totally going to slaughter John Green at street racing this year.
Shatter Me, by Tahereh Mafi– All other language walks, while hers pirouettes. I haven't seen prose this creative since Charles Dickens.
Maybe Someday, by Colleen Hoover. I admit it, I admit it, the deaf musician and the fact that this book has a soundtrack left me with a bit of a literary crush.