I said I wouldn't write this blog. PitchWars results are announced today, so a lot of people are writing encouraging blogs, and I bet they're better at it than me. I excel at encouraging authors I know, because I won't lie and they know this. Lying about writing serves no one. When I try to encourage people as a group, I can hear them in my head saying, "Listen, Lady, you haven't read my book. So shaddup." Plus, I always feel like I should have clouds and a soaring eagle in the background.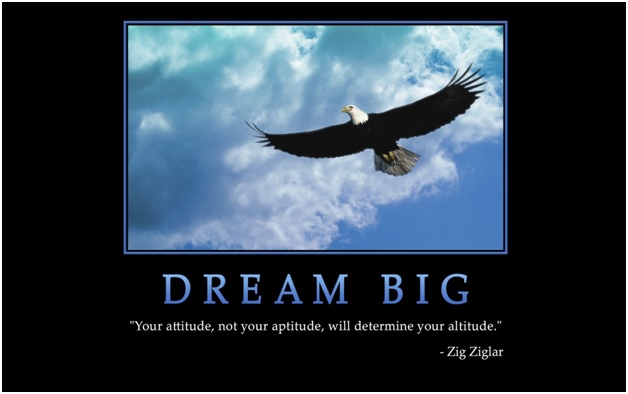 This was *my* encouraging speech: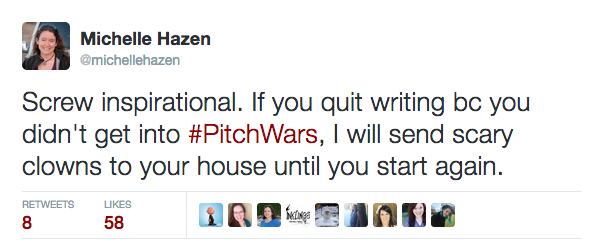 A preview of this outcome: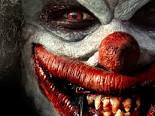 Unfortunately, then I wrote a few encouraging emails to individuals I DO know, and I realized I have something to say. Two somethings: one about my husband's grandma. One about a terrible book.
Once upon a time, I was in the endless process of hawking one of my books to people, and I was sad that they didn't want it (agents, publishers, CPs, can't remember what stage I was in right now and it doesn't matter). I was talking (whining) to one of my best friends. That friend happens to be my husband's grandma. Yes, I know that's weird. Shut up.
Because I trust her, I was really honest. Like, ugly honest. I said, "I don't know why I'm so freaking sad. I'm not one of those people who cares what strangers think of them. Maybe in my twenties I was, but now I could give a sh*t. Why do I care so much if they don't think my book is good enough?"
She said, "You don't."
I glared into my soggy Kleenex and said (possibly with a small amount of sarcasm). "Um, you sure about that?"
She said, "You told me you write because you feel called to do it. When you get inspired, it feels like fate, like something you have to do."
*loud nose blowing* "Okay, yeah. Maybe I said that once. So?"
"You don't want someone to think your book is good enough, you want someone to tell you that your instinct isn't wrong. That you're doing this for a reason. That you ARE supposed to be doing it and when you feel inspired, it's not ego or delusion, it's real."
Oh.
I could go on to tell you about how you never know the impact you have on people when you write, and especially when you publish. I could tell you about reader emails I've gotten (sometimes not even in English) years after posting stories for free on the internet. Emails from people pouring their hearts out about how I made them cry. How I changed their life. How they never forgot my words. YEARS after I wrote the words. Years during which I didn't think anybody cared about what I'd written or how hard I'd worked.
But I won't. Because the point is, you don't know what you don't know. You enter PitchWars because, as Mike Mammay put it, you want to know if you're any good. You want to know if you're wasting your time and emotional energy. The answer is no.
I know I sound like an asshat saying that to someone I don't know, so let me tell you a story about a terrible book. This isn't about working hard and learning beat sheets, blah blah. Just listen.
Back before I was an editor, before I was a book coach, before I was a contest mentor. Before I had graduated from college or even started writing fanfiction. Way back then, someone asked me to take a look at their pages. I had never even heard of a beta reader, I was so green at this point. I said, Sure! They'd seen an essay I wrote and thought I might know something, and my ego very much wanted to believe them. I looked at their pages. They were not good.
They broke every rule of writing in those pages. Some of the rules, they stomped on before tossing them out the window. I could scarcely tell what was going on. I didn't know where to start. I thought the person should probably take up golf instead. But I couldn't say that, because I didn't want to be a jerk. So I told them one or two things to improve, and pretty much washed my hands of the whole deal. They came running up to me a few weeks later with printed pages in their hands, and I cringed when they asked me to read them. Again, because I didn't want to be a jerk, I read them.
Reader, the pages were amazing.
Not perfect, no. But so much better than the last set, I couldn't even believe they were written by the same person. They had gone way above and beyond changing things according to my feedback. Their writing was evolving. Something was happening. So I thought up a tip or two more and passed those over (God only knows how, I didn't know half a thing myself at the time). They printed out some more pages for me weeks later and WOW! This time I legitimately couldn't wait to read more.
I cringe to admit this, because it shows me for the horrible person I occasionally am (Reader, I got better, I swear). I didn't think this person should be a writer at first. I was wrong.
That moment changed everything for me, because I realized that if you keep writing, you don't just learn things. You figure out grammar, sure, you learn structure (*snores*) but it's more than that. You get more ideas, better ideas. Deeper ideas. When you start reaching, something reaches back. Something real.
Do I believe some writers have natural talent, a mojo that can't be taught? Yes, I do.
But I've also seen writers that I didn't think had "it" keep writing and suddenly GET that mojo, and that I absolutely 100% cannot explain.
After that first writer (who is now a published author), I started editing for everyone who would sit still with a pen in their hand. I bullied people who didn't even write into writing books (Sorry not sorry, Hoku!) I bullied people who didn't want to write books into writing blogs (super not sorry, Sandra!). I volunteered myself blue in the face mentoring for contests, because I wanted to CHASE THAT FEELING. That moment when a writer believes they have something, and so they pursue it, and it gets bigger and stronger and more sparkly until maybe someday, it's a book on a shelf that touches peoples' lives. People who will probably never email to tell you.
That "something" is Tinkerbell. It's God. It's a muse. It may very damn well be my life's purpose and even if I can't grasp it, if I can find a way to stand in the same room with it, I will.
It's why I started freelance editing. It's why I turned myself inside out getting Author Accelerator to hire me and begged Brenda Drake to let me mentor months before this year's PitchWars even opened. It's why I'm blogging now instead of following my own magic and writing my own books.
Guys, you're never going to feel that magic if you quit today. And if you're not sure you've really got it? Believe you do. That belief becomes truth.