My new book is out today! This is a short prequel to A Cruel Kind of Beautiful, just a bite-sized story to tide you over until Book 2 comes out in March. Chronologically, this one takes place before A Cruel Kind of Beautiful, a deep dive into the band member characters before they got famous or found love. And right now, it's only 99 cents, so if you want to try out the series, it's a budget-friendly time to do it!

The Sex, Love, and Rock & Roll Series: Follow a rock band from bar rooms to the big time as the secrets of their sex lives begin to mirror the battles of their music careers. From spit-out-your-coffee funny to so heart-wrenching you'll be snatching up a napkin to dab at your eyes, this series will give you all the feels.
Available today: Fill Me, Book 0.5 in the Sex, Love, and Rock & Roll Series.
---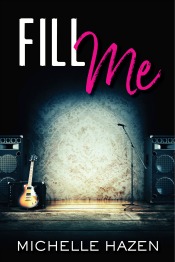 3 friends. 1 band. Fate starts here.
A garage band drummer who can't keep her boyfriend satisfied.
A bassist who's performing on darker stages than the musical kind, and can't tell his BFF.
A lead singer who can't seem to hold the headliner spot in his own friendships.
It's just one more dive bar gig, but tonight, all the band's secrets are coming out.
This prequel is a short-story-length introduction to the band The Red Letters. It takes place before the books about each of the band members. Click now to join them backstage!
Amazon: http://amzn.to/2DKhOrk
Barnes & Noble: http://bit.ly/2EqQGi1
Kobo: http://bit.ly/2EsVH9M
ITunes: http://apple.co/2CpIMbl
---
 Advance Praise for Fill Me

"Hazen says a lot in a few words and packs a pretty powerful punch.
We get a few chapters from each character's POV where we're introduced to the issue that defines them, which at the end of the day is something we can all relate to: the feeling of not being enough and wanting to find the one thing that will make us feel complete." -ReadsandReviews.com
"Previously meeting the characters and then going back to a little insight of their life before was so much more fun and it made me fall in love with them the way I fell in love with Jera and Jacob in the first book.
It's like Michelle has this amazing gift to switch between sexy and smoking to funny and witty in a breath and it's intoxicating." -Cheridan, Goodreads reviewer
---
$0.99 ebook
Available today!
The series will be rolling out really quickly over the next year, at a perfect speed for binge-reading. If you'd like to get early sneak peeks at the books, notifications when they come out, or exclusive bonus scenes and extras as the series goes on, make sure and sign up for my newsletter: http://michellehazenbooks.com/newsletter/
In the newsletter, I'll be announcing each new release as they come, as well as sharing lots of fun inside info about the characters and process of writing each book. Don't worry, I never email too often: just when there's news or something fun to share.
You can also add the book on Goodreads HERE to help your friends to find it!
Thanks so much to all of you for coming along on this ride with me and supporting my writing. I had so much fun making this series: going to concerts and interviewing musicians so I could really understand the process of creating and performing music. I absolutely can't wait for you to meet the band!
Just for fun, here's one of the inspiration collages I made for this book: