New Release- A Cruel Kind of Beautiful
I'm so excited to announce I have a book coming out! This will be the first installment of a hot new rock and roll romance series.
The Sex, Love and Rock & Roll Series: Follow a rock band from bar rooms to the big time as the secrets of their sex lives begin to mirror the battles of their music careers. From spit-out-your-coffee funny to so heart-wrenching you'll be snatching up a napkin to dab at your eyes, this series will give you all the feels.
Here's quick peek at the first book, A Cruel Kind of Beautiful, available 12.4.17.
---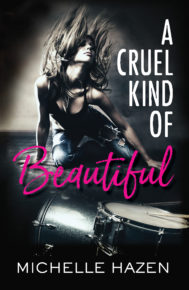 If you can't get to the Big O, can you get to the happily ever after?
Jera McKnight loves music, swoons for hot guys, but sucks at sex. Jacob Tate is her perfect storm: a pun-loving nude model with a heart as big as his record collection.
When a newspaper-delivery accident lands him in her living room, he's almost tempting enough to make her forget she's never been able to please a man—in bed or out of it. Sure, he laughs at her obscure jokes, and he'll even accept a PG-rating if it means he gets time with her, but he's also hiding something. And it has everything to do with the off-limits room in his apartment.
Jera pours all her confusion and longing into her drum kit, which pays off when her band lands the record deal of their dreams. Except just like Jacob, it might be too good to come without a catch.
She doesn't know if her music is good enough to attract a better contract, or if she's enough to tempt a man like Jacob to give up his secrets—even if they could fix her problems between the sheets. But if this rocker girl is too afraid to bet on herself, she might just end up playing to an empty house.
Grab the first book in this addictive new series if you love snarky heroines, the backstage scoop about mouthwatering rock stars on the rise, and Kindle-melting sex scenes. Perfect for fans of the ragtag band families in Kylie Scott and Crystal Kaswell's books.
---
This title is priced at $2.99 for ebook, $9.99 for print, and while it won't be released until 12.4.17, you can start preordering the ebooks today!
The series will be rolling out really quickly over the next year, at a perfect speed for binge-reading. If you'd like to be one of the lucky ones to get a peek inside A Cruel Kind of Beautiful before it releases, or exclusive bonus scenes and extras as the series goes on, make sure and sign up for my newsletter: http://michellehazenbooks.com/newsletter/
In the newsletter, I'll be announcing each new release as they come, as well as sharing lots of fun inside info about the characters and process of writing each book. Don't worry, I never email too often: just when there's news or something fun to share.
You can also add the book on Goodreads HERE to help your friends to find it!
Thanks so much to all of you for coming along on this ride with me and supporting my writing. I had so much fun making this series: going to concerts and interviewing musicians so I could really understand the process of creating and performing music. I absolutely can't wait for you to meet the band!