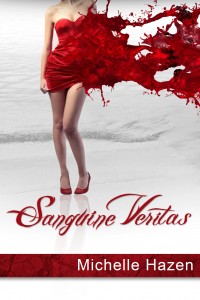 What if vampires could taste your true nature in your blood? Would it bring you peace or sorrow, to know the truth?
Could it help Elena to choose which Salvatore she loves without destroying them both?
This short story starts with Damon and Elena sharing blood in the bathroom of the Grill in 04×02 Memorial. After that, everything changes as Elena tastes the blood of both Salvatores and faces some hard choices about herself and the boys she thought she knew so well.
Sensual and bitter, this story will overtake you.
Whew! I'm excited about this one! Not only is this my favorite book cover all of my books (Alfred DeVarona, you just keep outdoing yourself!) but this is hands-down my favorite vampire short story that I've ever written. Deep, tortured friendships, tumultuous romance and SEXY SEXY bloodshares? All in six chapters or less. Click here to see "Sanguine Veritas" on Amazon, or click on the book cover image. And don't forget to leave a review, I love to hear from my readers!