Desperate Love Trilogy now for sale!
The Desperate Love Trilogy: 
A suspenseful and steamy exploration of the true nature of love and free will, friendship and sacrifice. Without a sire bond or untimely death to distract from the drama of Damon and Elena's first few months together, this is Season 4 the way the fans would have written it, with lots of romance, action and a game-changing finale!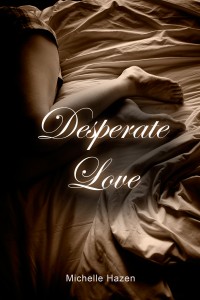 Desperate Love, Book 1
Only a few days after her transition, Elena has finally gathered enough courage to face her feelings for Damon. Now, Damon will be forced to weigh his chance at happiness against his loyalty to his brother and his choice will leave everyone reeling. The whole Mystic Falls gang will have to draw together to help as Damon and Elena struggle to translate their unruly passion for each other into a relationship stable enough to withstand the constant peril of life in Mystic Falls. But with a mysterious new threat in town, will they have time for their moment in the sun before everything falls apart?
Click here for Extras and Deleted Scenes to Desperate Love!
Click on book cover image to check it out at Amazon.com!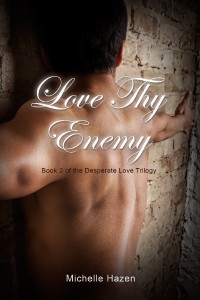 Desperate Love, Book 2: Love Thy Enemy
How do you live when your every instinct is to kill those you love the most?
The Gilberts are struggling to maintain a tenuous balance as Jeremy's Hunter urges grow stronger and Elena battles the overwhelming desires of a newly transitioned vampire. Damon is doing his best to teach Jeremy control and keep Elena safe from the brother she can't seem to learn to distrust. But when a new vampire hunter vows to turn Elena and Jeremy against each other, will Damon will be able to pull them all through unscathed?
Click here for Extras and Deleted Scenes to Love Thy Enemy! 
Click on book cover image to check out "Love Thy Enemy" at Amazon.com!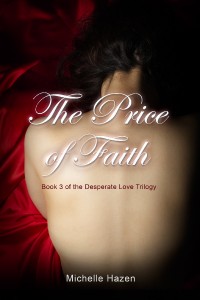 Desperate Love, Book 3: The Price of Faith
Damon's discovery about the Petrova doppelgangers has made him question everything, and he lashes out viciously in his grief. But Damon Salvatore is the least of Mystic Falls' problems when a very old and dangerous adversary comes to call with a deal for Elena, Jeremy, Caroline and Tyler that speaks to the best and worst in all of them. As the gang debates morality and breaks out some major firepower, Damon is forced to enact his most daring plan to date, gambling the lives of everyone he loves as the most exciting book of the trilogy comes to its thrilling conclusion.
**Huge thanks to the immensely talented Alfred DeVarona for my beautiful book covers!
Click on book cover image to check out "The Price of Faith" on Amazon.com!
It finally happened, dear readers! My most popular Vampire Diaries fanfiction, Desperate Love, is now available for sale on Amazon! It is now known as The Desperate Love Trilogy by Michelle Hazen. Book 1: Desperate Love, Book 2: Love Thy Enemy, and Book 3: The Price of Faith.
Some of you who have read the story before may notice I had to make some re-writes to the original story to make it fit Alloy Entertainment (copyright owner)'s publication guidelines. With the help of my supernaturally talented beta, Goldnox, I think I did a good job of making the re-writes true to the spirit of the original story. If you don't agree, or you just miss the original scenes, PM me or email me at michelle@michellehazenbooks.com and I think we can work something out that will keep us both happy 😉
Also, if you loved the story but don't want to purchase it to re-read, you can still show your support by heading over to Amazon and leaving a review for the world to see! Amazon has said that authors who get a lot of positive reviews will receive extra publicity from them, so consider this as you signing the petition to get me a free marketing department. Together, we can help publicize fanfiction as a legitimate creative art form that is just as valuable as original fiction!
So, just in case you HATED Desperate Love and are only on this page to leave me a review telling me that I should be making my living grooming sea monkeys instead of writing, fear not! There are still other fantastic fanfic stories on Amazon for you to enjoy.
First, Two heart-melting Delena stories: "Sounds of Tomorrow" and "Resonance of Reality" by C.L. Marlene. They've both spent a lot of days now in the top five bestsellers for Vampire Diaries Romance on Amazon, so it's not just me who recognizes their greatness.
And then more! The wrenchingly beautiful "Time Stretching Out Toward Forever" by Catherine Holloway.
And don't forget people, review, review, review! On Amazon, it helps your favorite authors make sales, helps other people find quality stories, and I think we all know by now that reviews are actually a semantic life support system whereby the authors' prefrontal cortex breaks down the syllables in a good review and digests them into pure creative energy.
For more information about Kindle Worlds and paid fanfiction writing, see below:
Amazon's Kindle Worlds is a brand new subset of fiction. In May 2013, they announced that they had purchased the rights to allow them to publish fanfiction from only three fandoms: The Vampire Diaries, Gossip Girl, and Pretty Little Liars. In June, they opened the Kindle Worlds store. Currently, it allows you to publish your fanfiction stories in selected fandoms and earn royalties just as you would for regular fiction books. You can also publish short stories, for a smaller royalty. Amazon sets the prices and the stories cost between $.99 and $3.99 depending on length, so they're quite affordable.
Since their opening, Amazon has added several more fandoms that you can write in. Currently, they are only publishing ebooks available in America but if you support this brand-new industry, it could easily expand to paper books, international sales, audiobook sales, etc. For more information, google Kindle Worlds. I'd add a direct link, but this fanfiction site doesn't support that.
If you don't have a Kindle, you can get an app for your smartphone, tablet, iPod touch, iPad or even for your laptop computer, so you should still be able to read the story no matter what kind of device you have. Please email me if you have concerns or questions, can't find the story or would like help downloading the appropriate Kindle app to be able to read. Here is the link for the free software so you can read on your computer:
http://www.amazon.com/gp/feature.html?ie=UTF8&docId=1000426311
Thank you all hugely for your support and kind words that fueled my heart and muse through all the months of writing this story!