Agent Life with Jennifer Johnson-Blalock
Today I'm talking agenting life with the multi-talented Jennifer Johnson-Blalock of Liza Dawson Associates. This is her first year on the star-studded agent lineup for Pitch Wars, and she has some juicy teasers at the end of this interview about what she's hoping to find amongst the mentee manuscripts.
What is your favorite part of being an agent?
Unquestionably, my favorite part of being an agent is getting to work with my clients. They're the talent. I facilitate bringing their work to a bigger audience, but this business begins and ends with the writers. There's no feeling of excitement that quite matches the one I have when I'm reading a manuscript and start to think, "This is really good… I think I might love this."
And in addition to being talented, my clients are kind, supportive, generous people. I've gotten to meet a few of them in person just in the last month or so (one of the quirks of this job is that everything is done online!), and every one of those meetings was an absolute joy.
I should also add that I include potential clients in this sentiment. I've become friendly with several people who decided to work with different agents. And I get to have conversations with so many people who have done awe-inspiring things because I have the ability to reach out and say, "Hi, I'm a literary agent–have you thought about writing a book?" Not all of those interactions turn into representation, but they're all fascinating.
What is your LEAST favorite part of being an agent?
Correlatively, my least favorite part of being an agent is when I have to be the bearer of bad news. Sometimes it just doesn't work out–the book doesn't sell, the offer isn't as high as we want, the publisher won't budge on a contract point, the sales aren't what we'd hoped, etc. There are so many variables in the publishing process; no writer is going to win every battle. I take on projects that I love, and I want them to succeed. I know my clients are even more invested than I am, so I hate disappointing them. That's why I put in my absolute best efforts on every front.
What single task takes up the greatest proportion of your working time?
At this stage in my career, it's READING–both client manuscripts and submissions. Right now, I have enough clients to keep me fairly busy but few enough that I'm still on the front lines of my submissions reading. I read quickly, but it takes about half an hour to read a partial manuscript and a few hours to read a full. With my clients' works, I'm reading more critically, so it takes a bit longer. In an ideal world, I'd be totally caught up and read everything as soon as it comes in, but I'm human, and I have a pile of manuscripts that I'm constantly triaging. It's pretty fantastic, as far as work goes, but it can be a little overwhelming when I know writers are anxious to hear back.
This is your first time as a Pitch Wars agent. Do you have anything you're really hoping to see in the Pitch Wars entries?
There are a few gaps in my client list right now: middle grade, suspense/thrillers, and contemporary romance; I'm dying to find at least one of each. In middle grade, I'm drawn to more serious, literary fare for the upper MG set, like Counting by 7s. With suspense and thrillers, I love dark and twisty psychologically driven books–Caroline Kepnes (I love antihero protagonists in this genre), Tana French, Gillian Flynn, and Megan Abbot are favorites of mine. With romance, I'm looking for something that feels very current (texting! dating apps!) and very fresh (avoids stereotypes like the bad boy or damsel in distress).
But I'm also still very much open to categories like young adult and women's fiction that are better represented on my list. With YA, I'd like something in between a sweet romance and a really serious Issues book. To be really specific, a dream book would be something involving a Rory/Paris style conflict–two girls battling it out over something that's not about boys. And I always find a little snark in YA enjoyable. With women's fiction, I'd love a multigenerational book or a work about making the tough choice–not having it all or settling in some way.
And I'm always excited whenever I see books in any genre involving my very specific loves: dance, food, film, travel, the South, antiques… I could go on. Last but not least: always, always, feminism.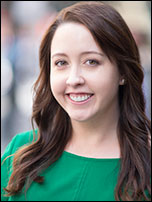 Jennifer Johnson-Blalock joined Liza Dawson Associates as an associate agent in 2015, having previously interned at LDA in 2013 before working as an agent's assistant at Trident Media Group. Jennifer graduated with honors from The University of Texas at Austin with a B.A. in English and earned a J.D. from Harvard Law School. Before interning at LDA, she practiced entertainment law and taught high school English and debate. Follow her on Twitter @JJohnsonBlalock, and visit her website: www.jjohnsonblalock.com. Her full manuscript wish list is here: Jennifer's Wish List